NEW GENERATION MAGNETIC SEPARATION
FOR MINING INDUSTRY
Magnetense designs and builds powerful magnetic separation systems for the mining industry.
New generation magnetic systems surpass the limits and functionality of older systems and keep plants secure and productive.
Magnetense laboratory offers:
product sample grinding;

product sample micronization;

product sample drying;

product sample magnetic separation tests ;

product sample chemical analysis including production of sample ceramics
MAGNETENSE's engineering office provides customers with a dedicated consulting service for magnetic separation and production processes in mining industry.

In this page you will find more in-depth information about our magnetic separation systems for the mining industry.
Our magnetic system for the mining industry are designed to perform the magnetic separation of: EMATITE, SALT,BARITE, TAILINGS, TITANIUM ORE, VADIUM, TUNGSTEN, MOLYBDENUM, NICKEL ORE, MAGNESIA, COPPER ORE, MAGNESITE, COAL, COBALT, POTASH SALT, GRAPHITE, MICA, LIMENITE RUTILE, NICKEL ORE, GOLD ORE, IRON ORE, FELDSPAT, CHROME ORE, DIAMOND ORE, BAUXITE, BETONITE, ANTHACITE and SILICATE.
Contact Us  
Contact us to find out how Magnetense can help you overcoming system and productivity challenges. We offer complimentary video, telephone and chat conversations to help you clarifying your needs in order to present you with the most cost-efficient solutions.
Telephone: +39 015 95 55 439 

Email: complete the contact sheet and we shall respond to you
Our magnetic separation systems for mining industry
WHIMS: Wet High Intensity Magnetic Separator
Global Fourth-generation Vertical Ring High Gradient Magnetic separator (Oil-water complound cooling)
Application:
This type of magnetic separation machine is used in wet separation processes for smaller than 1,2 mm ( – 200 mesh of 30-100 %) of fine grained red mine (hematite) limonite, manganese ore, ilmenite and some kinds of weakly magnetic minerals like quartz, feldspar, nepheline ore and kaolin in order to remove impurity iron and to purify them.
DISCOVER OUR "WHIMS"
Can treat fine grain materials

High intensity magnetic separation

Can removes iron contaminants
Working principle:
This type of Vertical Ring High Gradient Magnetic separator uses a wholly sealed oil cooling circulating device: through this device process water goes through a oil-water heat exchanger used to remove the heat generated by the magnetic separator's coils. 
The windings coil generates a magnetic field through the upper and lower yokes: a vertical ring can rotate according to the required direction. When the magnetic separator is working, the hopper is fed by the feeding tube with a pulp that flows through the rotating rings, along with the gap of upper magnetic poles. An induction magnetic matrix composed by high permeability stainless steel rods generates an high gradient magnetic field.
Pulp enters in contact with the lower part of the rotating ring and the magnetic matrix surface attracts magnetic particles. Due to the ring rotation the magnetic minerals are transferred to the nonmagnetic area of the ring and are discharged to the upper hopper by the water flow. 
The non magnetic particles are moved down to the lower hopper following the gap of the lower magnetic pole and the magnetic separation of magnetic minerals is completed. At this point the pulsating box is activated causing the pulp shaking up and down in order to remove impurities and improving the concentration of the pulp.
HMF Electromagnetic filters
The HMF electromagnetic filters are used in wet process separation of para-magnetic minerals found in quartz, feldspar,silicates, calcium carbonate and kaolin. The flow-rates are engineered in accordance with customer requirements.
These are the most technologically advanced magnetic systems that we can offer and can reach a power of 20,000 Gauss.
The flow rates are engineered according to customer requirements.
Here are some examples:
1500 Gauss; viscosity 500 max + 50 micron ferromagnetic

2500 Gauss; viscosity 500 max – 50 micron iron;

5000 Gauss; viscosity 1000 max;

10/20.000 Gauss; viscosity 1000 max;
DISCOVER OUR "HMF"
Paramagnetic mineral separations
Overband "Shark" and "O.va" models
Most older generation magnetic belt conveyors were fitted only with ferrite magnets.
Our Overbelt "Shark" model has a specific combination of ferrite and neodymium magnets: what is the advantage for you?

The possibility to reach more than 5507 Gauss magnetic power in contact with the rubber magnetic belt and a total weight up to 10% lighter than a common Overbelt.
PLEASE NOTE: In this industry it is common practice adopted by some manufacturers to guarantee magnetic performances only on the base of approximated calculations or under non-operating conditions. In this regard Magnetense is different and the performance stipulated above are measurable and documented.
DISCOVER OUR "OVERBADS"
Specific combination of Ferrite + Neodymium
10 % lighter than a common overband


Vulcanized overbelt strips are extremely robust, providing greater wear resistance to the belt (normally the weaker part of the overbelt).
To provide an additional wear resistance, we reinforced the side structures (sometimes severely stressed by the continuous use of grinding machines or by extreme working conditions or by weather conditions) and the diameter of the shafts (some customers told us they have even exaggerated).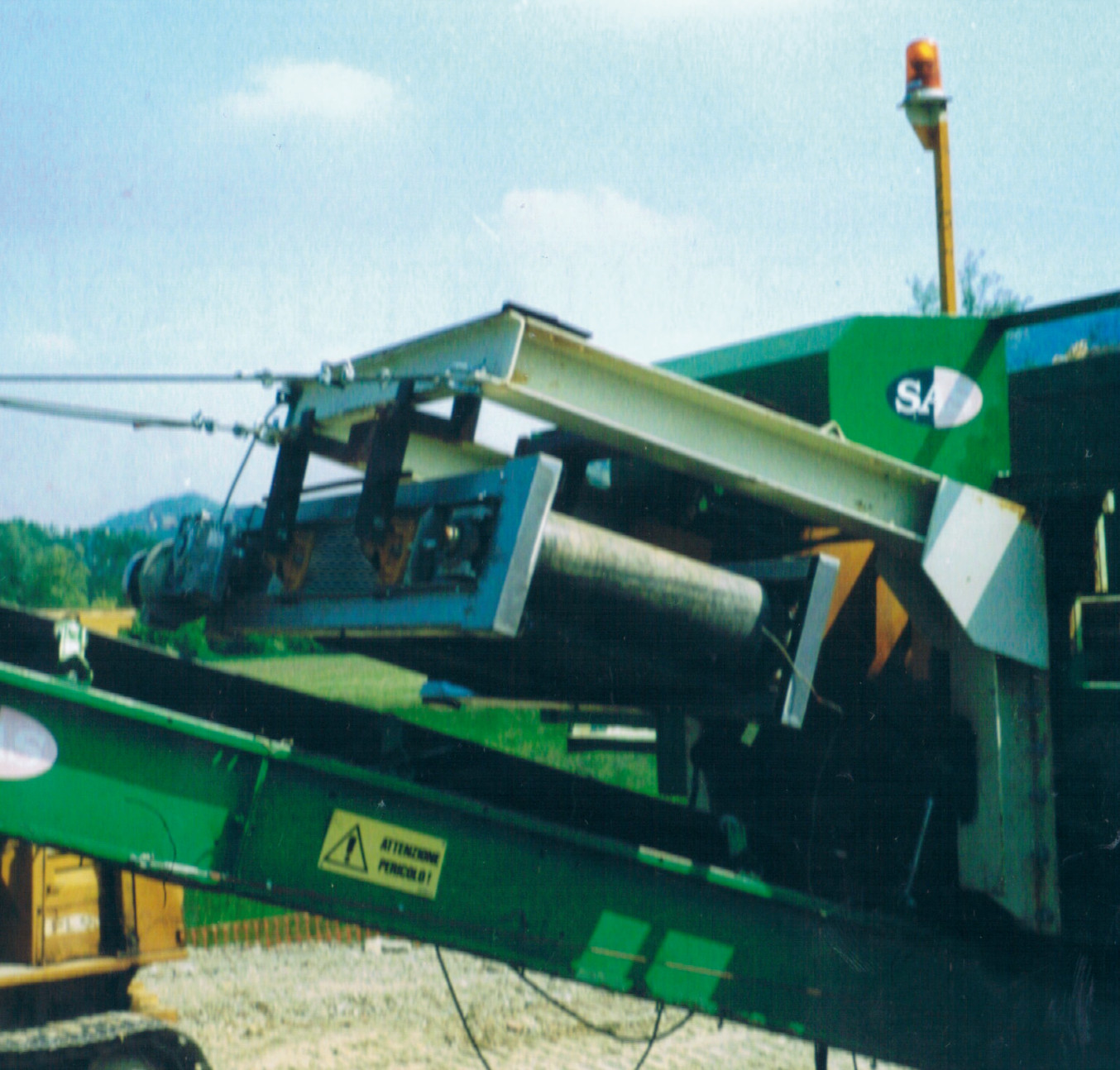 "Tiger" magnetic pulleys are ideal tools for wide-ranging deferrization of sandy materials.
The "Tigers" also can easily capture paramagnetic materials (hematite, muscovite, biotite, ilmenite…) and they are particularly suitable for iron removal from very thin particles (0.1 to 0.8 mm).
Input materials: feldspar and glass with an iron grade of 1,450 ppm;

Separated material: iron 850 ppm;

Reduction: 41%.
With a diameter of 300 mm and a working height of 1500 mm, our "tigers" have a higher capacity than lower heights and diameters machines: this feature, combined with the exceptional magnetic power (12,310+ Gauss in contact wit the surface), allows our magnetic pulley to practically catch almost any magnetic particle or paramagnetic mineral.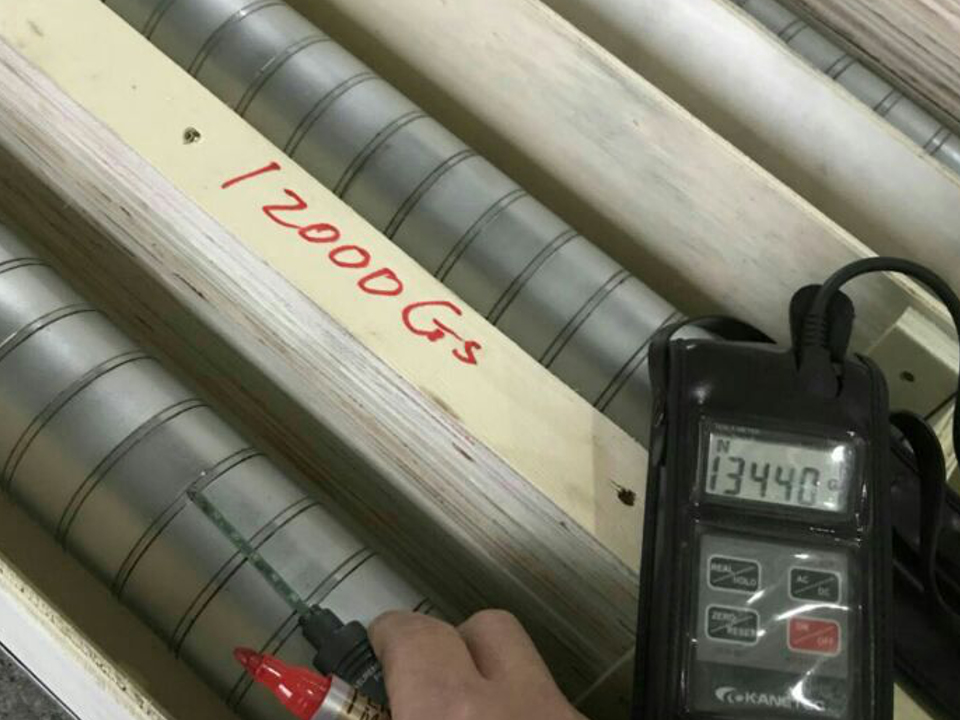 MAG: DRY MAGNETIC SEPARATORS
MAG 1.10/15 & MAG 3.10/15 magnetic separators machines are ideal devices to deironing a wide range of sand materials.
Paramagnetic minerals (hematite, biotite, ilmenite, etc…) are simply captured by "TIGER" PULLEYS's powerful magnets.
MAG 1.10/15 & MAG 3.10/15 magnetic separators are particularly indicated for the iron removal of fine particle size products (typically from 0,1 to 1,8 mm).

3 SEPARATION STAGES
DISCOVER OUR DRY SEPARATORS
De-iron paramagnetic minerals

Remove small iron particles
Three neodymium magnetic drums that drag the same number of belts: three successive stages of separation for effective iron removal.
The first stage is fed from the hopper integrated on the machine: the magnetic component of the material is retained in correspondence of the magnetic drum.
Depending on the peculiarity of the mineral to be processed and on the required magnetic separation, our machines MAG. 1-10/15 & MAG 3.10/15 can be implemented from three to four magnetic passages.
Rollers 100 mm to 300 mm diameter with working heights varying from 1.000 to 1.500 mm.can be installed in our machines. In order to meet specific customers requests, MAGNETENSE can produce rollers larger than 300 mm diameter.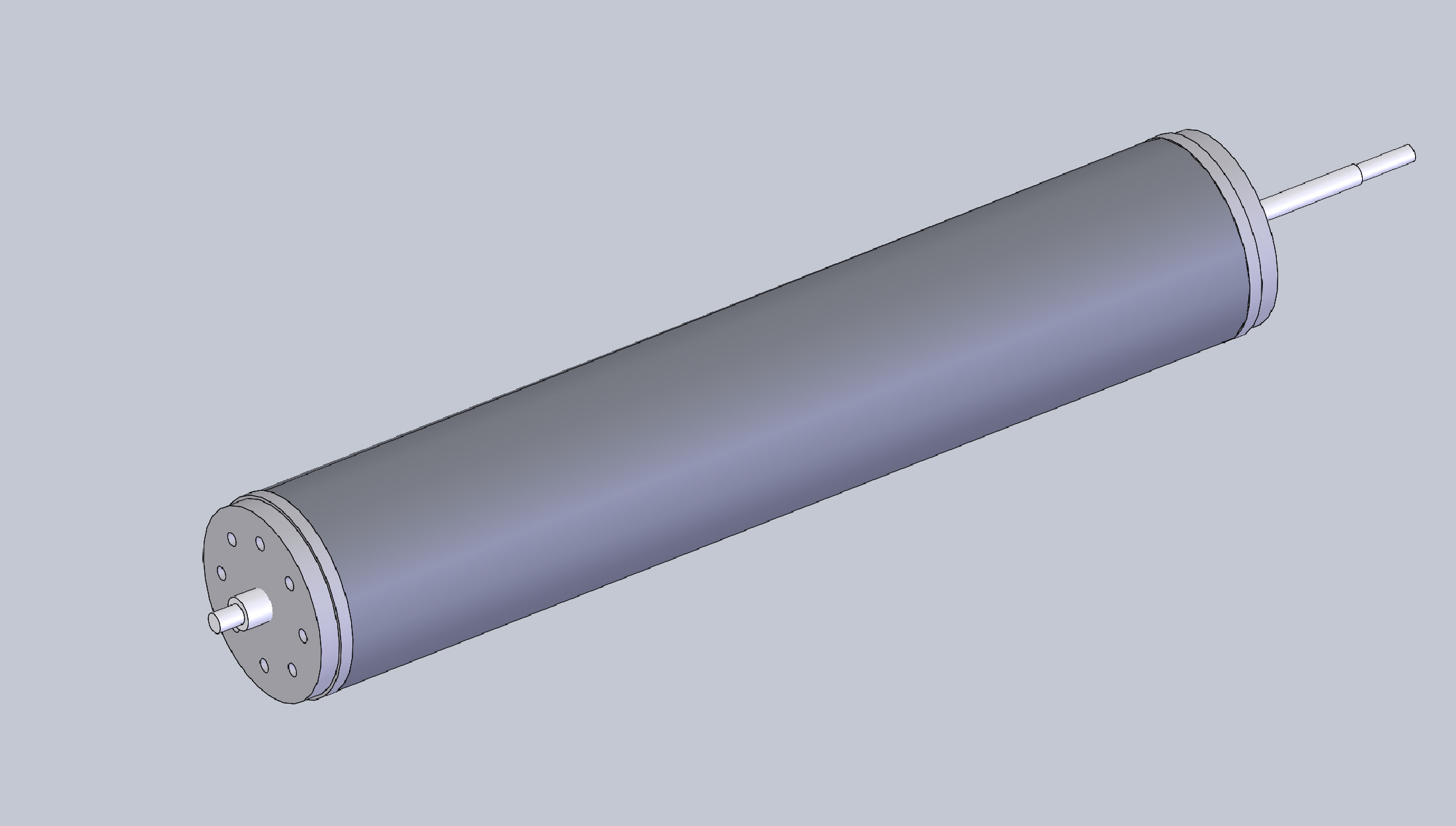 APPLICATIONS TIGER MAG 1.15 & 3.10.
Used for the removal paramagnetic minerals of particle size between 75 micron to maximum 13 mm suach as:
-Chromite;
-Ilmeite;
-Chromite;
-Colombite-tantalite;
-Muscovite;
-Biotite etc…
Every parts are weakly magnetic particles from range of non metallic in the mineral fields such as:
-Silicate sand and dust;
-Magnesites;
-Feldspar ceramics;
-Phosphorus pentoxide etc…
The magnetic separation performance with MAG TIGER 1.15 and 3.10 machines it could be reach a reduce of F2O3 between 30-40% but depend of technical specification of raw ore. The feeding of MAG TIGER 1.15 and 3.10 it could be feed through electromagnetic vibrator or mechanical hopper. The magnetic components assembled in the MAG TIGER 1.15 and 3.10 are able to work with following temperature working 80°C and 120° C. Recently our technical and develop office made a new up grate about working temperature between 80°C to 120° C because several process of mineral in the dry process it could be easy to overtake the temperature average 80°C involve the demagnetized the magnetic equipments. With this specific equipments the magnetic equipment able to work aroud 90°C.
MAG TIGER 1.15 and 3.10 it is possible costruction with two, three or four stage depend of needs.The electrical components of electrical board installed of MAG TIGER are Schneider Electric. Motor gear rossi or sew eurodrive. Other technical specification it will available in phase of negotiation.
Our plates surface treatment achieve a significant step forward in terms of wear resistance and from an aesthetic point of view.

The most important feature of our plates is certainly the separation efficiency which is on average 15%-20% higher than the our old systems. ).
Our "PLV2" are also equipped with a magnetic shielding to prevent workplace accidents.
DISCOVER OUR PLATES
Improved surface treatment
Separation improvement of 15 %

Magnetic shielding (PLV2)
Contact Us  
Contact us to find out how Magnetense can help you overcoming system and productivity challenges. We offer complimentary video, telephone and chat conversations to help you clarifying your needs in order to present you with the most cost-efficient solutions.
Telephone: +39 015 95 55 439 

Email: complete the contact sheet and we shall respond to you
This post is also available in: Italian